The La Mirada Disc Golf Courses are located in the beautiful La Mirada Regional Park, in the City of La Mirada, in Los Angeles County, California.  We have two 18-hole courses, a PAR 54 course called the Lakeside-18 and a PAR 55/56 course called the Back-18. We also have a Championship PAR 68 course that can be played occasionally when the basket positions are located correctly. The nearest parking lot to play both courses is the parking lot directly next to the tennis courts. Both entrances to this lot are off of Adelfa St.  The Pro Shop is in the building located between the lower eight (8) tennis courts.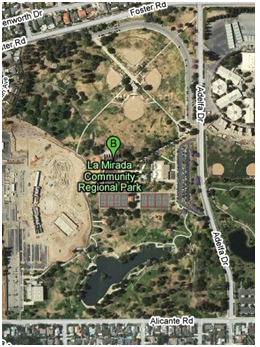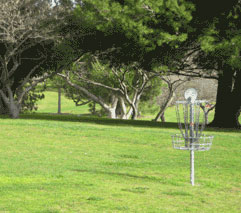 La Mirada Community Regional Park: 13701 Adelfa Dr, La Mirada, CA 90638
Tee #1 for the lakeside course is located in front of the pro shop, on the concrete.
Tee #1 for the backside course is located behind the raquetball courts (if you are standing facing the pro shop, turn right and walk up the hill.  Walk to your left around the raquetball courts, and you will see the tee pad past the playground across the walkway. It is in front and on the corner of the Splash Water Park fence) NEW
Lake-18 PAR 54 (NEW)
Back-18 PAR 55 (NEW)
Below are two tables that will be used to display the tee sign for a specific hole along with the photos for the tee and basket positions. Click on the Hole # to see the tee sign for that hole. Click on the Tee or corresponding letter (A, B, C, etc..) to see the photo for that hole.
Other Disc Golf Courses are listed under the Other menu item.